March Is Women's History Month
"Women In Motion"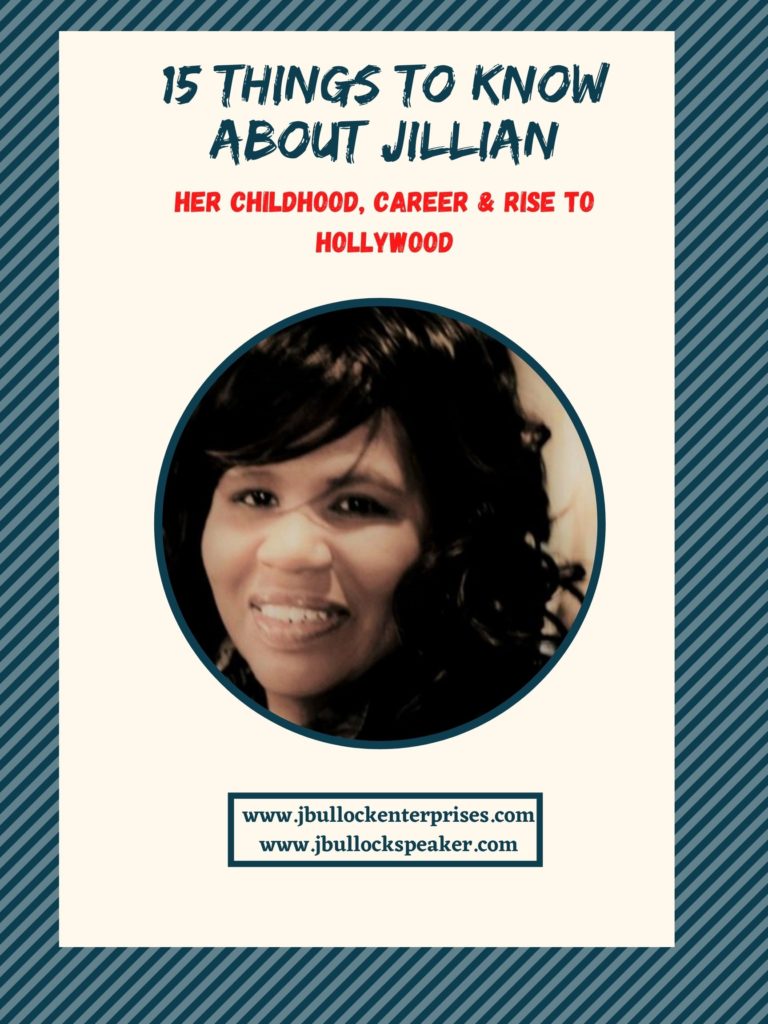 Chances are you've heard of this super talented woman, who wears the hats of writer, actress, director, producer, author, speaker, fitness expert, and fight choreographer.
Who is Jillian Bullock? 
Here are 15 facts about Jillian, including moments about her childhood, career, rise to Hollywood, and why her memoir, HERE I STAND, is in development as a feature film. More importantly, how she uses her gifts as a writer, speaker and filmmaker to empower people and change lives.
1. She Grew Up In An Interracial Family
Jillian was raised by her African-American mother and white stepfather, who was a member of the Philadelphia Mafia. She witnessed her first Mob hit when she was nine.
2. Jillian Had a Rough Upbringing
She was raped by a family friend at age 10. Homeless at age 15, Jillian was forced into prostitution and drugs to survive.
3. Jillian Refused to Be a Victim Ever Again
At age 12, Jillian started training and competing in Tae Kwon Do to protect herself. At 15, she earned a black belt. In her 20's, she started Wing Chun and got another black belt five years later. In her 30's, Jillian took up boxing. During her 40's, she added wrestling to her training. Today, Jillian trains in boxing and mixed martial arts, along with high intensity interval training, kettlebells, and yoga.
4. She Had a Baby at Age 16
While on the streets, Jillian got pregnant and delivered her son, Clinton, two months premature. Doctors gave him a 50% chance of surviving. Today, he is Dr. Clinton Bullock and speaks four languages.
5. Her Love of Film Started With Her Mafia Stepfather
Although Jake was a Mobster, he was also a movie buff. Every Sunday he would take Jillian to see a movie and they'd stay until all the credits rolled. He would tell Jillian – "One day I'm gonna see your name on the big screen." That was his dream. After Jake died, his dream became Jillian's dream.
6. Jillian Worked While She Attended College
She attended Philadelphia Community College and then transferred to LaSalle University, majoring in Communications. Part of the curriculum entailed screenwriting and film classes. Jillian also get her start in writing as an intern for the Wall Street Journal newspaper, Philadelphia branch. Over the years, while in college, she worked her way up to a news assistant and then a reporter. Jillian did all this while she was a single parent to two additional children in addition to Clinton.
7. She Got Her Start in Film as an Intern
When Jillian graduated with a BA from LaSalle University, she got an internship on the set of Spike Lee's movie "Malcolm X."
8. Her Memoir is in Development as a Feature Film
Jillian's memoir, HERE I STAND, was published in 2012 and is available on Amazon and Barnes and Noble. The book tells of her upbringing and how she was able to overcome horrific obstacles and challenges. Due to so many people reaching out to her after they read the book, she became a transformation speaker to teach other people how to build resistance and fulfill their dreams. Now that Jillian has written the script, the movie is in development and will feature several A-list actors.
9. She Formed Her Own Production Company
After the internship with Spike Lee, Jillian created Jaguar Productions, Inc. A few years later, she changed the name to Jillian Bullock Enterprises, LLC, a film and entertainment production company.
10. Jillian Has Dealt With Mental Illness
It wasn't until Jillian was in her late 40's and started going to see a therapist when she was diagnosed with PTSD and depression due to the aftermath of the dreadful experiences she endured while growing up. She was able to transform her mental and emotional state to one of healing, with the help of therapy, yoga and meditation.
11. She's An Award Winning Filmmaker
Jillian received numerous awards for her 2019 movie "A Sense of Purpose: Fighting For Our Lives," which deals with veterans and military sexual assault. The movie is currently available on Amazon Prime.
12. Rise to Hollywood?
Jillian now works with Hollywood producer Sheila Henley. They has several projects in development with many being filmed in LA. In 2021, she will also be making her home in #Hollywood and #Philadelphia.
13. What Production Is Next?
Jillian is the writer, director and producer of the upcoming movie, "A Cup Full of Crazy," a psychological thriller. Production begins in June 2021
14. She's A Transformation Speaker, Fitness Expert, Nutrition Specialist, & Life Coach
Jillian has another business as a transformation speaker, mind-body-spirit coach, fitness expert, and a health and plant-based coach. As a vegan, she teaches people about health and wellness through nutrition, fitness, and mental and spiritual health in order to live a full, productive life, and to enjoy better sex. Jillian also teaches people how to overcome hardships, challenges and obstacles in order to obtain success, happiness and greatness.
15. Why Jillian Tackles Tough Subject Matters
As someone who has endured horrific experiences, Jillian understands the pain people are dealing with emotionally, mentally and spiritually. She writes and directs movies and TV shows that are groundbreaking, socially conscious, and thought provoking. Jillian uses her voice to tackle difficult subject matters that spotlights social issues, e.g. mental illness, rape and sexual assault, homelessness, drug addiction, sex trafficking, racism, domestic violence, in an effort to bring about change.
---
Want To Know More About Jillian Bullock…
#JillianBullock #FemaleFilmmaker #Hollywood #WomenInHistory #Empowering #Change #Transformational #Love #PhillyFilms #disciplined #focused #dedication #selfhealing